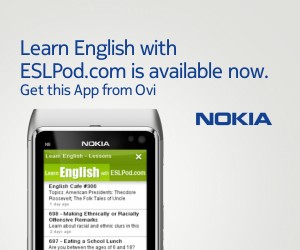 If you own a Nokia phone, you can now download ESL Podcast audio files directly onto your phone with our new Ovi app. Go here for more information and to download the app onto your phone.  (If you like the app, please rate it five stars and write a good review for us!)
For iPhone users, you can simply access the podcast on iTunes.
For Android users, any program that can access an RSS file will work.  Try the Google Listen app.  You will need to enter our RSS feed address, which is:
http://feeds.feedburner.com/EnglishAsASecondLanguagePodcast
Happy listening!
~Jeff
Photo Credit: Nokia Store, Used with permission