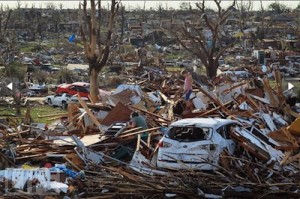 This headline (the title of a newspaper article) – A Declaration of Endurance (the ability to do something difficult for a long time) – caught my eye (got my attention) as I was looking through the New York Times online on the 4th of July, the day we Americans celebrate our independence (freedom). I started to read:
For the last few nights, brief shimmers (soft shaking light) of fireworks have sparkled (shine in small bright flashes) in the dark skies over Joplin, heralding (announcing) the approach of another national birthday. But the monstrous (very large) tornado that mowed  through (went through the town like a grass-cutting machine) here six weeks ago forced (make someone do something they don't want to do) the city to change its Fourth of July plans.
That much didn't surprise me. Six weeks ago, Joplin, Missouri – in the center of the U.S. – was nearly wiped out (destroyed) by a monster tornado. Here's how the New York Times writer described it:
A first-time visitor to Joplin today might gasp (breath loudly and suddenly when you are surprised) at the sight of some of its neighborhoods: the destroyed and vacant (empty) houses; the stripped (without bark or branches) trees; the front steps leading to emptiness (nothing); the crushed (broken or badly damaged) cars evoking (causing us to remember) the dead; the many streets that … have no power, no light, no life.

Such is the aftermath (result) of an EF5 (the most powerful) tornado that landed and lingered (stayed for a while) on the Sunday evening of May 22, carving (cutting like a knife) across the city's belly (center), carrying winds of more than 200 miles an hour, changing everything. Dozens were killed, more than 7,000 buildings — schools, churches, a hospital — were damaged or destroyed, and a city's economy was upended (turned upside down, badly damaged).
After the tornado, there was only destruction (ruin, damage) as far as you could see in any direction. Almost everything that people were used to seeing was gone. Today, six week later, everything has changed – again:
Joplin is now a study in tidy (neat) devastation (destruction), if such a thing is possible, with many swept streets, many [cleaned-up] front yards and many neat (orderly) mounds (piles) of debris (what's left when something is destroyed) at curbside (beside the street). For example, where the concrete-and-steel remains of [a popular organization] once sat, in sad memorial (memory) to four dead, there is now a spotless foundation (bottom of the building)…. With the dead now buried, and the displaced (people without homes) now sheltered (have a place to live), it is focusing (concentrating) on removing the debris, so as to see the possibilities beneath.
When I remembered everything the people of Joplin experienced, I'm wasn't surprised to discover that they had changed their traditional 4th of July celebration this year. What surprised me is that they insisted on making it "bigger and louder and better than ever" (You can learn more about that by reading the article.)!
As I read the article, I was moved (had strong feelings). This was not just a story about the people of Joplin. It was more. It was a story about the American spirit – the ideas, beliefs, feelings, etc., that you will find in many Americans.
I couldn't find a specific description of the American spirit online. But maybe that's the way it should be because spirit shows up (appears) in different ways in different situations. In Joplin, the American spirit has shown up in the resilience – the ability to become strong, happy, or successful again after a bad situation or event – of the city and its inhabitants (people who live there).
The first President Bush talked about resilience in a speech he gave after he lost the election to President Clinton in 1992. He said "I could also see every day in ways large and small the resiliency of the American spirit." He described many of the difficulties the people of the U.S. had faced (experienced) and how they had bounced back (recovered) from them. And he said that "our advantage has been our spirit, constant confidence" – in other words, our resilience. The people of Joplin are good evidence (proof) that he was right.
~ Warren Ediger – creator of Successful English, where you can find clear explanations and practical suggestions for better English.
Photo by John T. Pilot used under Creative Commons license.