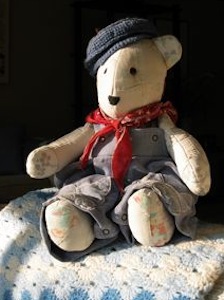 If you know Charlie Brown, you know "Good grief!" Charlie Brown was the main character – a little boy that never grew up (got older) – in the Peanuts comic strip (picture stories that appear in newspapers). Even if you didn't see the comic strips in a newspaper, you might have seen the Peanuts comic books, television programs, or movies.
When Charlie Brown said, "Good grief!" he was using it as an exclamation, a sound, word, or short sentence that you say suddenly, and sometimes loudly, because you are surprised, angry, or excited. Charlie usually said it because he was both surprised and annoyed (a little angry).
Some people might call "good grief" an oxymoron. An oxymoron is a combination of two words that seem to mean the opposite of each other. Here are some examples I found online: seriously funny, pretty ugly, old news, and Microsoft Works. Some say "intelligent blonde" (a person with pale yellow hair) is an oxymoron, but I might disagree: I married one!
The reason some people might call "good grief" an oxymoron is because grief is the extreme sadness we feel when someone we love has died. Not many people would call that good.
My brother, sisters, and I felt a lot of grief when our mom passed away (died). It was a difficult time, but we discovered that remembering and telling stories about Mom helped reduce (make less) our grief. Mom was a hard-working, warm (friendly and relaxed), loving, funny, and creative woman. And many of the stories we told were about her humor (ability to think that things are funny) and creativity. Let me tell you a few.
When I was young, Dad didn't receive a large salary (monthly payment from work). As a result, we often had to scrimp (save as much money as you can). One Christmas, Mom didn't want to spend money on a Christmas tree, so she found a tumbleweed, which was easy where we lived. A tumbleweed is a round weed (undesirable plant) that grows quickly, dies quickly, and after it dies, tumbles (rolls in an uncontrolled way) across the ground wherever the wind blows. She brought the tumbleweed into the house, flocked it (covered it with a white powder) and turned it into a Christmas tree. No one had a Christmas tree like ours that year!
My second story comes from a photo we found of a snowman sitting in a chair at a snow-covered table on Mom's deck (wooden floor behind the house). He was wearing a cap and enjoying a plate of peppernuts (I wrote about these in The Wanderers) – one of our favorite Christmas treats. What's interesting about this is she did it for her own enjoyment. It doesn't get very cold where she lived, and I'm sure that this scene disappeared a short time after she took the picture when the sun came out and melted the snow. She didn't care! She was just enjoying herself in a creative way. And I imagine she probably chuckled (laughed quietly) to herself while she did it.
Finally, the story of the bear in the picture at the top of the page. Several years ago Mom called to say that she had been cleaning out the closets (small room where clothes are stored). She said she had found some things of mine and had sent them to me in a box. She told me that I could keep them or throw them away, whichever I wanted to do. When the box came, I opened it and found a quilted, stuffed bear wearing my first pair of overalls (pants held up by cloth straps that go over your shoulders). A quilt is a blanket made from pieces of cloth. The pieces of cloth Mom used to make this quilt had come from shirts and dresses she had made for us when we were young. One of the pieces even came from the dress she wore to the hospital when I was born! I discovered later that she had made five of these bears, one for each of us children.
Good grief! Not fun, certainly, but good for us because it gave my brother, sisters, and me a reason and opportunity to remember a wonderful woman and mother.
~ Warren Ediger – creator of Successful English, where you can find clear explanations and practical suggestions for better English.
Photo by W. Ediger.