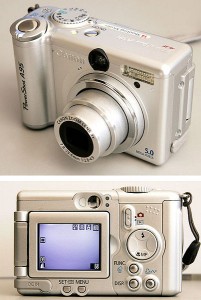 Like a lot of other smartphones nowadays, my phone has a camera. When I take a picture, there is a sound that is made that is just like the sound the cameras of my youth (when I was young)  made – a long clicking sound.  In the old days, before the explosion (rapid increase) of electronic devices (small machines), there were lots of sounds made by the physical movement of a machine's parts.  When you took a picture, there was a sound made by the shutter (an internal part of the camera) as it opened and closed rapidly.  It wasn't something added to the camera; it wasn't extra.  It was just a sound the machine made due to (because of) the way it was built.
Digital cameras don't make any sound, or at least, they don't need to.  But the makers of digital cameras add the sound you used to hear.  Why?  Mostly because that is what people are used to hearing, what they associate with taking a picture. And we are slow to change.  We want to feel comfortable with the new technology, so keeping some of the old sounds, shapes, and the "look" of previous technology has become quite common.  When you move from one page to another on an iPad, you see something that looks like a paper page turning.  For most of us, that's what reading a book feels like, and we want to keep that experience even when it is no longer necessary.
This process of keeping some of the old to help people transition (move from one place to another) to new technology is itself old.  When we moved from a system of transportation provided by horses to the steam engines of the 19th century, the amount of power was called "horsepower," since that was what people were familiar with.  And we continue to use that term in English, even though most of us have probably never ridden a horse and have no idea how much power could be provided by, say (for example), 140 horses.
There are many examples of this way of designing technology – think of "folders" on your computer, or putting things in the "trash" to delete them.  Can you think of others?  Are there sounds that you don't hear anymore that you wish you did?
~Jeff
Photo credit: Canon PowerShot A95, Wikipedia CC