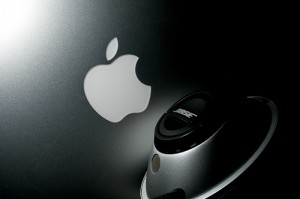 From 2006 until 2009, many of us enjoyed the Get a Mac television advertisements from Apple Computers. Well, at least those of us who use Macs enjoyed them!
The ads featured cool, casual (relaxed) Justin Long as a Mac and stodgy (dull; uninteresting), stuffy (not open to new ideas) John Hodgman as a PC (a computer that uses Microsoft Windows). Let me give you a couple of samples from the early years, using in part  the descriptions provided by AdWeek:
In one of the first ads, PC is seen rocking out (obviously enjoying himself) to an iPod and praising (saying good things about) iTunes. Mac replies that the rest of the iLife suite (a group of computer applications) works just as well and comes on every Mac. PC gets defensive (acting in a way that shows you think someone is criticizing you) and begins to list the cool apps (applications) that he comes with. Unfortunately he can only think of Calculator and Clock.
In another ad, Mac and PC hold hands to demonstrate (show) their ability to network (connect) with each other. They are joined by a Japanese woman who represents a new digital camera. Mac and the camera speak to each other fluently, but PC, who doesn't have the proper driver (small app needed to do something), gets confused and can't communicate.
If you want, you can view all 66 ads at the Adweek website. We Mac users think they're very funny!
Not too long ago, Hunch.com carried out (did) an unscientific survey (research study) to see if Mac users really were like Long and PC users like Hodgman. You can see the results here in an interesting infographic (information shown as a graphic design).
The survey reinforced (supported) many of the ideas about the people who use Macs and PCs, but it also shed light on (showed, revealed) some interesting differences. Nearly 400,000 responded to (answered) the survey. About 50% identified themselves as PC people and 25% called themselves Mac people.
In general, Mac saw themselves as hip (fashionable), liberal (open to new ideas), verbally-oriented (good with words), more adventurous, and more creative. PC people see themselves as very mainstream (part of the majority in society), conservative (not liking change or new ideas), math-oriented, and less comfortable, in general, with computers and technology.
One of the interesting things is how PC users view (think about) Mac users and vice versa (the opposite: how Mac users view PC users). PC users think Mac users seem trendy (always follow new fashions), shallow (not interested in serious ideas), or pretentious (think they're more important than they are). On the other hand, Mac users see PC users as being rigid (unwilling to change), conformist (doing the same as everyone else) and boring.
What kind of person are you – Mac or PC? Remember, this is about the kind of person you are, not the kind of computer you use. Take a look a the infographic and see which one you are. Remember, it's possible for a PC person to use a Mac or a Mac person to use a PC! And, I suppose (think or believe), it's possible to be a little bit of both.
~Warren Ediger – creator of Successful English, where you can find clear explanations and practical suggestions for better English and something to read during May.
Photograph "I'm Mac user" by Abdulrahman used under Creative Commons license.