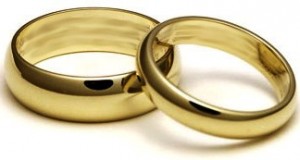 Economics is the study of how we produce (make), consume (use), and transfer (give to someone else) various kinds of goods (physical things) and services (actions). In recent years, there have been several books in which economists use the methods of economic analysis to explain the way society (our culture or social structure) works.  The best known of these was the 2005 book, Freakonomics, which tried to explain different aspects of modern culture and living using economics.  (A freak is a strange or unusual person, and the term (word) is usually considered an insult).  Of course, "freakonomics" isn't a real word in English; it is a new word created from "freak" and "economics."
Now we have a new book in this same spirit (using this same idea or same approach) called Spousonomics, which tries to understand married people and their relationships through economic analysis. (Your spouse is the person you are married to.) Part of the book includes the results of a national poll (survey; questionnaire) of married couples and their opinions on various topics. Here are some of the results:
36% said that having children has brought them closer together, while 7% said it has driven them apart (separated them more).
45% agreed with the statement, "There are a few things [about my spouse ] I used to find appealing (attractive; making me like someone more) and now I don't."
56% said they had gained weight (got fatter) since getting married; 62% said that their spouse had gained weight.
57% said that a typical (normal) argument lasts 15 minutes or less; 4% said it lasts more than a day.
77% said that the amount of sex they have has diminished (become less and less) as they get older; 76% wish that it would not diminish.
35% said that they watch (pay attention to) their spouse's spending, while 40% said that they don't watch it.
58% had "full confidence" (were very sure) that their spouse would not cheat on them (not have a sexual relationship with someone else).
If you are married, you might want to compare your answers with what U.S. couples reported (said).  My answers are (in order): Not applicable (I can't answer since I don't have children), disagree, I've gained weight and my wife has lost weight, two hours, none of your business (you have no right to know), never, full confidence.
Finally, my favorite result: 55% said that marriage is more work than they expected before getting married. In other words (to say the same thing another way), 45% of the people were lying.
~Jeff
Photo Credit: Anillos (Rings) by Musoromana, Wikipedia CC