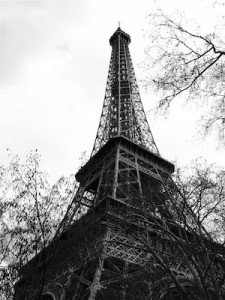 Some are very well known. In the U.S., the Statue of Liberty. In Rio de Janeiro, Christ the Redeemer. In Paris, the Eiffel Tower. In Kamakura, Japan, the Daibutsu, or Great Buddha.
Others are not so well known. For instance, the Little Mermaid in Copenhagen. Or Mannekin Pis in Brussels.
All of these statues or structures have one thing in common: they are icons. They are identified, or connected in our minds, with each of the cities or countries; when you see one of them, you think of the city, the country, or an idea, like freedom.
Today, the best-known icons are probably the ones you find on your computer screen – the small picture or sign that you click on to start a program – like the blue "W" for Microsoft Word.
When people who come from a Greek or Russian Orthodox or Catholic religious background hear the word "icon," they may be reminded of a piece of religious art, often a painting of the Virgin Mary, Jesus's mother.
Someone who is famous and admired by many people, someone who represents an important idea or art form may be called an icon. For me, B.B. King, and Buddy Guy are "blues icons"; they are famous blues musicians and represent an important part of the history and development of the blues. The blues are similar to jazz; the music is often slow and sad.
In general, you can see that an icon is something that is identified with something else: a statue with a city, a picture with a computer program, a painting with a kind of worship (religious practice or ceremony), a famous performer with a particular kind of music.
In the past two months, there's been a lively (with a lot of energy) discussion about a new icon for the city of Detroit, Michigan, here in the U.S. Detroit is known as the home of (where it started) the American automobile industry and Motown Records, a popular music recording company famous for its black singers and groups, especially in the 1960's.
A growing number of Detroit residents (people who live there) want RoboCop to become the new Detroit icon. Are you familiar with RoboCop? He was the star of RoboCop, the 1987 science-fiction movie, and became a pop culture icon. Pop, or popular, culture, is made up of music, movies, television programs, books, magazines, and other things in the culture that are popular with many people.
In the movie, futuristic (in the future) Detroit is filled with crime. A Detroit police officer who was killed by criminals is recreated (made again) as a super-human (more than human) cyborg (part human and part machine) called RoboCop. His life and work was guided by three principles, or values: serve (work for) the public trust (what people hired you to do), protect the innocent (people who can't protect themselves), and uphold (defend or support) the law. In the movie, he helped clean up (restore law) the city and rid it (make it free of) of crime.
One supporter of the RoboCop statue says these are good values for Detroit to promote (encourage). And he adds, "A city needs to be fun, too. It can't be all serious…. Showing people that we can have a sense of humor and encourage our citizens to have motivation and ideas is an important message…."
Question for discussion: If you were to choose an icon for the town or city you live in today, what would you choose? Why?
~ Warren Ediger – English tutor and creator of Successful English where you will find clear explanations and practical suggestions for better English.
Photo of the Eiffel Tower taken by W. Ediger