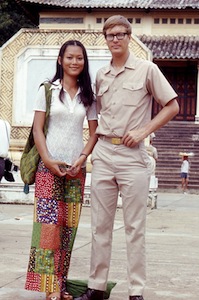 The New York Times recently ran (published) an interesting set of articles and graphics that underscore (emphasize) the changing face (appearance) of America. Because of immigration, the American population has always been diverse (made up of different groups of people). Now intermarriage – marriage between people from different groups – is helping the U.S. become even more diversified.
Let me try to clarify (make clear) some of the words we use to talk about group differences. In the 2010 census (official count of the population), there were two questions to help identify the groups of people that make up the U.S. population. The first was an ethnic question. According to the U.S. Census Bureau (government department responsible for the census), an ethnic group is a group of people that share (have the same) such things as culture, language, and religion. This question asked people if they were of "Hispanic, Latino, or Spanish origin." People from countries like Mexico, Cuba, Puerto Rico, and other Central and South American countries would have said, "Yes," to this question.
The second question asked about a person's race, which usually refers to national origin – the country the person's family first came from. The choices included White (mostly people from Europe, the Middle East, or North Africa), Black or African American, American Indian or Alaska Native, Asian Indian, Chinese, Filipino, Other Asian, Japanese, Korean, Vietnamese, and several others.
According to the New York Times, intermarriage is on the rise (growing) in the U.S. This probably shouldn't surprise us. Almost all of us in the U.S. come from immigrant families. Some immigrated recently; others, like my family, immigrated many years ago. It's probably inevitable (certain to happen) that young men and women from different groups will meet, fall in love, and get married.
One study says that the number of interracial (between races) or interethnic (between ethnic groups) marriages has doubled in the past 20 years. Two years ago, another study reported that approximately 14% of U.S. marriages were between people of different races or ethnic groups. This trend (pattern) makes some people uncomfortable, but more and more young people are embracing (willingly accepting) a multiethnic or multiracial identity (multi– means more than one).
According to a graphic in the New York Times, intermarriage increased among all groups except Asians from 1980 to 2009. Among Asians, it declined (dropped). The largest increase in intermarriage has been among Hispanics. When we look at gender (male/female) differences, black men marry someone from a different group twice as often as black women do. Among Asians, it's the opposite: Asian women marry someone from a different group more than twice as often as Asian men.
The New York Times also has a related feature (special article) called Mixed America's Family Trees, which you might enjoy looking at. A family tree is a diagram that shows the relationships between people in several generations (people of about the same age) of a family. My grandfather, father, my son, and I represent four generations of our family. The family trees will help you see how intermarriage has changed several American families.
~ Warren Ediger: creator of Successful English, where you can find clear explanations and practical suggestions for better English.
Photo used under Creative Commons license.