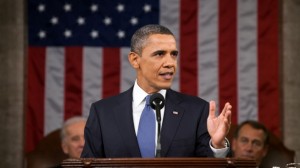 On Tuesday, U.S. President Barack Obama gave what is called the State of the Union address (speech). Our constitution (most important legal document) requires that the president give a report to Congress (the Senate and House of Representatives) on the state (situation; condition; status) of the union (that is, the country) "from time to time" (every so often; once in a while). This has been interpreted as meaning once a year and is usually done in January.
In the speech, the president gives his priorities (what is most important) and goals for the coming year. The entire Congress attends (is present), along with the members of the Supreme Court (the country's highest level of judges) and the heads (leaders) of all the major government offices (called "secretaries"). (Actually, since 9/11, one of the secretaries does not attend in case there is an attack on the Capitol building (where the Congress meets and where the address is given) and the president and members of Congress are killed. If such a terrible thing did happen, then that secretary would become president.)
This year, the Wall Street Journal published a list of the words President Obama used most often in his speech. These words give you an idea of his priorities and what he thinks is important to tell Congress and the American people. Here's part of the list, from the more popular words to the less popular (less used) ones:
Jobs
Business
Work
Government
Future
Nation
World
Dream
Law
Tax
Teachers
Afghan (related to the country of Afghanistan)
As you can see, his focus was mainly on the economy and jobs, something most Americans are very concerned about.
For those of you who live outside the U.S., how might this list be different in your country?
~Jeff
Photo of President Obama delivering his 2011 State of the Union address: Wikipedia CC