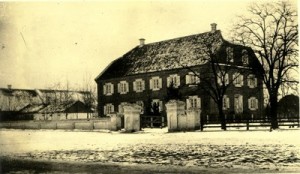 When I was teaching adult ESL students, I would often begin a get-acquainted (getting to know each other) discussion by asking two questions. The first was "how would you describe yourself? Are you a Mexican (or Korean or….) living in the U.S., a Mexican-American, or an American of Mexican descent (nationality; where your family came from)."
The second question was "how do you think you'll describe yourself five years from now?" As you can imagine, we had some very interesting discussions.
These discussions always reminded me (made me think) of my ancestors (family members who lived many years ago) and the path they took to the U.S. and into American life and culture. I recently saw an interesting description of them that was written at the time they arrived in the U.S. The writer said they were "ethnically Dutch, culturally German, and nationally Russian." What he meant is that my ancestors were Dutch people who had lived in Prussia, or northern Germany, long enough to pick up German cultural traditions, including the German language. And, at the time they moved to the U.S., they were Russian citizens.
As you can see, my ancestors moved around. In fact, one writer refers to them as wanderers (without a permanent home). Let me see if I can condense (shorten) their story into a few paragraphs.
My ancestors came originally from a region (area) of Holland called Friesland. Most were farmers and some, possibly (maybe), were teachers.
Sometime near the end of the 1500s, the Prussian government invited them to move to an area west of Danzig, which is now Gdansk, Poland. They were given religious freedom and some very bad farmland – most of it was wilderness (never been developed) and marshes (ground that is always wet). In a few years, however, they turned the land into productive farms.
Later, around 1800, the Russian government invited these hard-working farmers to move to the southern Ukraine , near the Molotschna River, to help develop farming (agriculture) there. They were offered (told they could have) religious freedom and freedom from serving (working) in the Russian army. In addition, the government helped pay for the cost of moving. Today, if you visit southern Ukraine, you'll find large wheat farms that they started. And you can still find many of the villages they lived in.
By the late 1800s, it was obvious (everyone knew) that the life these people enjoyed in Russia would soon end, so they began to look for a new home. They looked at locations in Canada, the U.S., Mexico, and South America. Most of them came to the U.S. around 1875 and settled (started living) in Kansas, in the center of the U.S. Kansas was on the American frontier (where no one had lived before) at that time, so these farmers did what they did best – make something grow where nothing had grown before. If you travel through this part of the U.S. today, especially in the summer, you'll see miles and miles of wheat farms, the same as in the Ukraine.
Christmas also reminds me of my ancestors and our traditions. I have fond (like very much) memories of gathering (getting together) at my grandparents' homes at Christmas with uncles, aunts, and cousins. Two of my fondest memories are the food and the music. We'd always eat a large Christmas dinner together and then gather around the Christmas tree in the living room to sing Christmas carols. What wonderful music!
Next week my family will repeat part of the tradition. Even though my children are very American, they love the traditional food and insist on having it every Christmas.
Three foods are always at the top of our list of favorites. First, there are zweibach, a kind of bread or dinner roll usually eaten with jam. Then there is pluma mos, a fruit soup made of raisins and prunes cooked slowly in a sweet cream sauce flavored with cinnamon and other spices. And finally, there are peppernuts, small hard cookies flavored with ginger, cinnamon and, yes, a little pepper. Any day now, I expect the UPS (United Parcel Service) man to ring our doorbell ring so he can deliver the box of peppernuts my mother sends every year.
For those of you who celebrate Christmas, merry Christmas from me and my family. For those of you who don't, I wish you a very happy holiday season. And to all of you – in advance – Happy New Year!
~ Warren Ediger, creator of Successful English where you can find clear explanations and practical suggestions for better English.
photo from Molotschna colony, Ukraine, from GAMEO