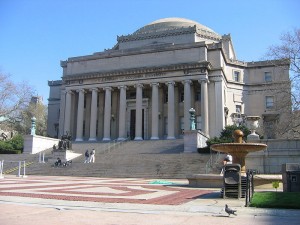 Most college students worry about how much they will make (how much they will be paid) at their first job after they graduate (complete their studies), what we would call their starting salaries.  As you already know, the answer to that question depends on what your major (field of study or concentration) is.
Recently, the website PayScale.com and the Wall Street Journal newspaper published a list of the average starting salaries for U.S. college graduates getting their first job after graduation.  The statistics (numbers; figures) are from the years 1999 to 2010.  From highest average salary to lowest, here is the list (note: dollar amounts are for one year's salary or pay):
Engineering (all combined): $56,000
Computer Science: $50,000
Civil Engineering: $49.000
Accounting: $43,000
Economics: $42,000
Finance: $41,000
Biology: $38,000
Business: $38.000
Marketing: $37,000
Political Science: $36,000
Psychology: $35,000
Communications: $34,000
English (study of literature): $34,000
Remember that many graduates work in areas unrelated to their actual major in college.  An English major, for example, may get a job in sales, or an engineering major might get a job at a bank.  Not all majors are listed here, and these statistics are just for the beginning salaries.
What was my major?  My first degree was in history, which I finished in 1986 (well, sort of – it's a long story!).  I don't remember my exact salary for my first year of work, but the job was in the business office of a company that made clothing.  I'm sure it was less than $12,000 a year.  Adjusted for inflation (the change in the "price" or worth of money over time), today it would be about $24,000 (calculation done here).
It was a good thing (fortunately) I went back to school to study something else after that first job!
~Jeff
Photo credit for Columbia University (where President Obama graduated from): Wikipedia CC