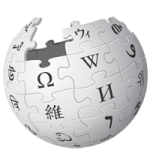 One of our fantastic podcast listeners, Alexey from Russia, emailed us this week to let us know that he wrote a Wikipedia page about ESL Podcast in Russian. You can read it here: Wiki in Russian.  As with many Wikipedia pages, one person begins the page, but for it to be accepted as a permanent (not temporary) page, it requires the help of others, who can add to and/or edit the page.  Those of you who are literate (able to read and write) in Russian may want to take a look and add your own touches (include things you want to).  Wikipedia frowns on (does not like or allow) organizations and companies to write Wikipedia pages about themselves, and we understand why.  Since we don't read Russian, we assume that Alexey said wonderful things about the podcast and that Jeff looks and sounds just like Brad Pitt.  Thank you, Alexey.
In all seriousness, we do want to thank Alexey for producing this page.  We know that it takes a lot of time and energy to do it.  And if any of you decide to write or help edit a Wikipedia page about ESL Podcast, please let us know so we can let others know about it here on the blog.
We really appreciate all of the support from our wonderful listeners!
~ Jeff and Lucy