Oh, sure, you've heard of the iPhone, Apple's smartphone (phones that have other functions, such as music and video players and web browsers). Millions have been sold, and it has singlehandedly (by itself, without any other help) changed the way people think about phones in terms of (with regards to) style and function. But have you heard of an even cooler (more attractive; more impressive) device (machine), one that makes sounds when you use it, that is a game and a phone all rolled into one (as part of one package, one thing)?  Ladies and gentlemen, I present to you my new rPhone™*: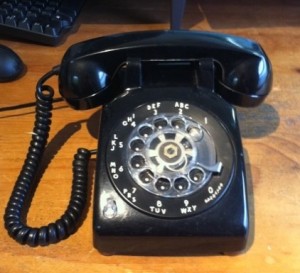 Pretty cool, eh?  Of course, those of us of a certain age (that is, old) remember when the only kind of phone was the rPhone, with no tones (sounds) other than the dial tone (the sound you hear when you first pick up a phone, before dialing it).  (The "r" stands for "rotary," which refers to the circle or wheel you turn with your fingers to make a call.)  You needed to use a little elbow grease (strength) to dial it, and instead of tones, you heard clicks, but it seemed to be sufficient for the first 50+ years of telephone service in the world.
I found my rPhone at an antiques store (where old furniture and other old items are sold) back in St. Paul when I was there in August.  It works great, even though it is probably 40 or 50 years old.  You use your fingers to dial it (it's like a game!),  it requires no software updates or Internet access, and it never gets a virus (a kind of illness or a harmful computer problem).
I've started using it now for most of my calls, and if I need to use the keypad (the numbers 0-9, *, and #) with its tones, I just pick up my other phone on the same phone line.  I love it.  Why?  It takes several seconds to dial a number, slowing down my life just a little and giving me time to think about what I am going to say to the person I'm calling.  It is a little taste (sample) of the slower, calmer life of my youth.  And if the power goes out (the electricity is interrupted or stopped), the rPhone keeps on working – no batteries required.
Next up (the next thing) for me, a manual (non-electric) typewriter!
~Jeff
Photo: © Jeff McQuillan
* = The term rPhone is trademarked (™) by Jeff McQuillan (or should be).