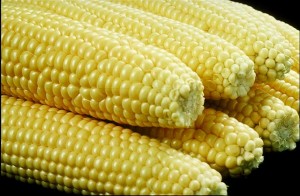 I usually return at least once a year to my home state (place where I was born) of Minnesota. Although I love living in beautiful Los Angeles, California, there are things that only Minnesota can offer (can give you; can provide). One thing is great-tasting corn. August is a wonderful time for sweet corn in the Midwest (the middle, central part of the U.S.), and if you are lucky as I was yesterday to be driving out near the farming areas in the country (outside of the city where few people live), you can stop at a roadside stand (a small place where food is sold next to the highway or street) to buy some freshly (newly; recently) picked (removed from the plant) corn.
I stopped and bought some corn that had been picked only a few hours earlier. As you may know, sweet corn is best eaten (will taste the best) when it is cooked soon after it is picked. Naturally (of course), I went immediately to the place where I was staying back in the Twin Cities (Minneapolis and St. Paul, the main cities in the state) and cooked it. It was perhaps the best corn on the cob I've ever eaten. (The cob is the hard, round, long part of the plant that holds the corn, as in the photo above.)
Another thing Minnesota is famous for is its particular vocabulary and pronunciation. (I've lost almost all of my "Minnesota accent" in the past 20 years since moving to California.) Minnesotans have a very distinct (unusual; noticeable) accent compared to other places in the U.S., especially when they pronounce their "o's." The "o" in Minnesotan (the language of the people in Minnesota) is long (like the "o" in "soda" or "toe") and drawn out (pronounced for a long time), so the word "Minnesota" sounds like "Minnesoooooota." To hear a good example of Minnesotan, watch the movie Fargo, which is about people living in northern Minnesota. (Fargo is actually a city in North Dakota, a state to the west of Minnesota, but don't worry about that).
Minnesotans also have certain terms or words they use that are different from what people in other states say. They say "pop" instead of "soda" for drinks like Coke and Pepsi. They call a casserole (a kind of thick stew cooked slowly in the oven) a "hotdish." And they like to use the phrase, "You betcha!" (or simply, "You bet!"). You betcha (the "cha" is a combination of the "t" sound of "bet" and the word "you") can mean "You're welcome," so if you thank a Minnesotan for helping you with something, he or she would say "You betcha!" You betcha can also mean "Of course," "You're right," or indicate you completely agree with the other person. If you said, "Lucy Tse is a wonderful writer," a Minnesotan who knew Lucy would say, "You betcha!"
So am I going to have some more corn today for dinner?  You betcha!
-Jeff