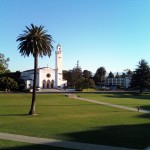 A couple of months ago, I received some good news from a former university student of mine. This student had not only been accepted into a good Ph.D. program to get her doctorate degree, she had received a fellowship, which meant she didn't have to pay any tuition (money paid to attend a school) and she also received a stipend (money given to students, usually for their living expenses) for one year.  As a teacher, it is nice to see former students succeed and do well in life.
Then, at about the same time, I read some shocking (very surprising, usually in a bad way) news.  A few years ago, I found out that  a former university student of mine had been elected (selected by voters) as mayor of a city in Southern California, a very high-level job for someone so young.  In fact, he was among the youngest mayors ever, and I was glad for his achievement.
Unfortunately, a few weeks ago, I read that he had failed to report campaign contributions (how much money people and groups give to politicians) and expenditures (how money is spent). By law, politicians have to report to the government their campaign contributions and expenditures, and these disclosures (information reports) are made public to voters.  He had failed to do that.  Worse, he had lied about it, which means he was guilty of perjury, the crime of lying to the court.  Sadly, he had to submit his resignation (formal notice given when leaving a job) as city mayor, and even worse, he has been barred from (prevented from) holding elected office (job given by voters) for life.
Though we probably have little or nothing to do with the outcome of our students' lives, we still feel good when they do well and feel bad when they don't. So, if you must get into the news, please let it be for something commendable (worthy of praise) and not because you've been caught with your pants down (discovered doing something wrong).  Think of your poor teachers, who lead (live)  boring lives and who live vicariously (experiencing in one's imagination the feelings or actions of another person) through you.
~ Lucy