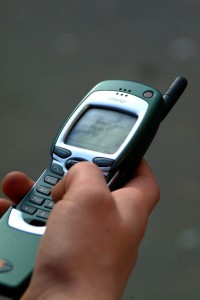 It happened again yesterday. My wife received an email with a subject line that shouted (said loudly), "Do NOT press 90# on your phone!"
Briefly, here's what the email said: If someone calls you and asks you to enter 90#, don't do it! If you do, the other person can use your phone account to make long distance calls – and you pay the bill! According to the email, people who claimed (say it's true) to represent AT&T and other telephone service providers have been doing this.
As evidence (proof) that this is true, the email made several statements:
"I dialed '0' to check this out, asked the operator, who confirmed that this was correct."
"I also checked Snopes.Com [more about them later]. This is true, and also applies to cell phones!"
"The GTE Security Department requested that I share this information with EVERYONE I KNOW."
"After checking with Verizon they also said it was true, so do Not dial 90# for anyone !!!!!"
Well, I tend to be a little skeptical (questioning) – some might even say cynical (suspicious; not believing) – when I see things like this. So I went to work. And I quickly discovered that almost everything in the email is false! The only phone equipment that might be vulnerable (easily attacked) to this scam (a dishonest plan; fraud) is an old kind of business phone system – called a PBX.
This email is a good example of what we call an urban legend. An urban legend is a story that is told to many people as if it were true, but it isn't. Unfortunately, the people who repeat urban legends believe they are true and take them very seriously – the lady who sent the email to my wife also sent it to about 60 other people! Urban legends are spread (distributed) by word of mouth (one person telling another), and emails are a popular way to do that today.
Once urban legends get established (are accepted and shared by many) – today we might say "go viral" (spread quickly using technology) – it's very difficult to stop them. This one has been making the rounds (going from person to person) for more than 10 years! I know of a few urban legends that have been around even longer than that.
I found most of my information at a website called Snopes.com – a good place to go if you suspect (feel; think) that something you hear is an urban legend. In fact, I discovered that the #-9-0 phone scam is on their Hottest Urban Legend list – the list of urban legends that people talk about and spread most often.
~ Warren Ediger – creator of Successful English, where you can learn more about how to improve your English!
Photo from FreeFoto used under Creative Commons license.