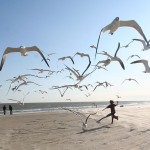 A recent article in the New York Times reported on a recent study on aging (getting older) and happiness.  The study was based on a scientific poll of 340,000 Americans of all ages.  One of the questions related to how satisfied people were with themselves, a measure (indication) of happiness.  According to the study, people at age 18 begin life feeling pretty happy, but soon they start to feel worse and worse.  However, this process reverses (goes in the other direction) at age 50.  Beginning at age 50, people begin to feel better about themselves again.
There are a number of possible explanations for this finding (result of research).  First, by the time you are 50, you are likely to be advanced in your career, making a good salary (money for work), and feeling in control of your life better than when you first started out working in your 20s and 30s.  Second, if you have children, they are likely to be older adolescents or adults, which leaves you more time for yourself.  Third, you may have a more balanced, realistic view of life in general (overall) and your life in particular (specifically).  By 50, you have seen more of the world and the people in it, and can perhaps see that temporary setbacks (problems) are just that – temporary, for a short time only.
I'm only 46, so I have four more years before my life gets better.  I can't wait to be 50!
~Jeff