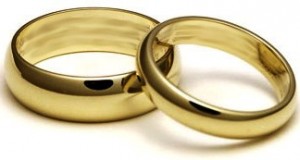 In the United States, when women marry, they have a few options regarding their last name. We've received a couple of questions from listeners about this issue so I thought I would explain it here.
When we talk about a last name, we are referring to the family name or surname, not the given name of a child when he or she is born.  In the U.S., we almost always use the term "last name," and only rarely use "family name" or "surname," and when we talk about our given name, we use the term "first name."  When you fill out forms in the U.S., there is usually a space for your "first name," "last name," and "middle name" or "middle initial (first letter of the middle name)."  Both the first name and the middle name are given to a child when he or she is born, but the last name is usually taken from the father, although there are a number of exceptions.
In terms of a woman's last name after she marries, she has several options.  The tradition (something done for a long time in the same way) is for the wife to change her last name to the man's. One reason for this is that people in the past kept track of (followed; recorded) family relations through the father's family name. This is still the most common choice today in the U.S.
Example:  If Annie Lang got married to Sven Ramirez, her name would be Annie Ramirez.
Another option is for women to keep the last name they were given at birth. In this case, she is keeping her maiden name, the name that she had before she got married. She may do this because in her job, her last name is already well known (like with famous actors or singers, or professionals), because she doesn't believe in a male-dominated (men in charge; men making the rules) society, or because she simply prefers it that way. This means she has a different last name than her husband.
Example:  If Annie Lang and Sven Ramirez married, she would still be Annie Lang.
Some women keep their last name, but add their husband's last name to it. The new last name can come before the old one or after it, with a hyphen or without. You may see any of these and it is not uncommon in the U.S.
Example:  So with our old friend Annie Lang, she could become Annie Lang Ramirez, Annie Ramirez Lang, Annie Ramirez-Lang,  or Annie Lang-Ramirez.
Finally, some men and women who get married decide to create a new last name from combining their two last names, or by using a completely new last name that they both agree on. Doing either of these things is not very common, but you do see it now and then.  One example is the last name of the current mayor of Los Angeles, Antonio Villaraigosa.  When he married his wife, his name was Antonio Villar and his wife's name was Corina Raigosa.  They decided to combine their names and created the new last name Villaraigosa.  (He has since divorced, but has kept this last name.)
These are just a few of the most common options, and we won't get into (begin discussing) how children are named or what happens in same-sex marriages (when a man marries a man, or a woman marries a woman).  We need another blog post for these issues!
One final word on this topic:  What happens if a woman divorces?  There are a couple of common options and the choice is the woman's.  Some women change their name back to their previous name (maiden name). Some women choose to keep their husband's last name after a divorce.
Now, aren't you glad you're a man?
Do people change their names after they marry in other countries?  What do you think of these traditions?
~ Lucy