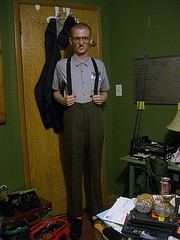 America will need more "cool nerds" in the future. That's what a recent New York Times article says. Cool (fashionable, impressive) nerds? The word "nerd" first appeared when I was in school, and it wasn't cool! No one wanted to be a nerd.
When I was growing up, a nerd was someone who studied all the time and often became very good at mathematics or some other intellectual (mental, thinking) activity. Nerds didn't usually participate in sports or social activities, like going to school dances or parties. There were usually very few nerds in school and they usually hung out (spent time, relaxed) together.
Another, similar word came around (appeared) a few years later. The word is "geek." Sometimes geek and nerd are used to mean the same thing. However, there are usually some subtle (not easy to notice) differences. Probably the most common use of geek is to refer to someone who has a special interest in technology, like computing. Here in the U.S., there is a business called the "Geek Squad." If you have trouble with your computer, you can call them, and they will come to your house and fix it.
Not everyone is happy about these words. One American professor thinks they should be avoided (stayed away from). He says that using words like geek or nerd perpetuates (preserves, keeps alive) a negative stereotype (a popular, often wrong, belief about someone). The photograph above is a popular stereotype of what a nerd looks like.
Other people think the words are okay. They say that the meanings of words often evolve (develop, change) as the social context (situation) changes. According to the New York Times article, being called a "cool nerd" is a compliment (praise). It identifies someone who is smart, does well in school, and does well in other things, too.
The professor insists, however, that in most of America, geek and nerd still have a negative image. He believes that most people will try to avoid geeks and nerds. The best thing to do, in his opinion, is to "put them to bed" (stop using them).
I have to smile when I read that because I discovered that this same professor has written a book. Would you like to guess the title? It's called Nerds: Who They Are and Why We Need More of Them.
Now, back to my part of the story. While I was researching this post, I went online, Googled "nerd" and "geek," and discovered that there is a test that will tell me what I am. It's called the Geek? Nerd? or Dork? Test (a dork is someone who is not very smart, not good with people, and not aware of what's happening in the world).
I took the test, and when I got the results, this is what I learned: "You scored better than (more than) half in Nerd, earning you the title of: Pure Nerd."
I couldn't believe it! Me, a pure nerd? Impossible!
I continued reading, hoping I would find some good news, and I finally found it. The test results also said that being exceptionally (very) smart led to being unpopular in the past, but not today, especially as someone gets older. And then came the best news of all: "Eventually being a Pure Nerd will likely (probably) be replaced with the following label: Purely Successful."
Wow! I sure hope they're right!
~ Warren Ediger – ESL tutor/coach; creator of www.successfulenglish.com where you can learn more about how to improve your English.
Photo by My Blue Van used by permission.