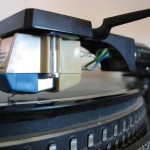 From time to time, I have selected songs and provided the lyrics (words in songs), with explanations.  They are usually songs I like, so you've had to suffer (go through the pain of) my choices.
Finally, it's your turn to be DJ (disc jockey; the person on the radio who selects the music to be played and who announces the songs).  We'd like to hear what songs you'd like to hear and which lyrics you'd like explained.
We sometimes get questions from podcast listeners who ask about lyrics from Elvis songs, Beatles songs, or songs by other well-known and legendary (remarkable; very famous because of their talent) artists, so I thought we'd start with some of these, taking the top five in record sales (the number of records or CDs sold), and then adding a few other popular recording artists (anyone who records music for sale).
Tell us who your favorite recording artist is of all time.  If the artist does not appear in the poll below, tell us who it is by posting a comment. Also, suggest a particular song in the comments that you'd like to hear.  Let's see which artist/song gets the most votes or the most mentions and you'll see that here on the blog.
~ Lucy
[poll id="13″]