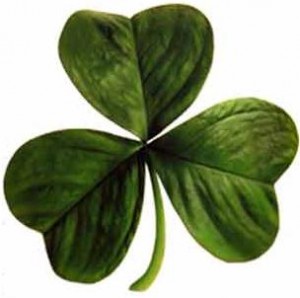 Today is one of the most important celebrations in the country of Ireland, and for those of us who are Irish-American (or Irish-Anything): St. Patrick's Day, March 17th.  St. Patrick is the patron saint of Ireland, a Roman Scot (from Scotland) who eventually went to Ireland and converted the Irish people to Christianity in the 5th century.  A saint is a holy man or woman, especially in the Catholic Church, and a patron saint is the saint who is especially associated with a place or kind of activity.
St. Patrick's Day is especially important in the Irish-American community here in the U.S. as a day to be proud of our ancestry (where we came from originally).  While it is common for immigrant groups to bring with them the celebrations of their native (home) countries, the large size of the Irish immigrant population in the U.S. made St. Patrick's Day the most popular and well-known ethnic (relating to a specific country) celebration in the country.  Cities with large Irish-American populations have parades (groups of people marching (walking) down the street with signs), including Boston, New York, Chicago, and of course my hometown (where you were born) of St. Paul, Minnesota. Each year, I remember we would take the day off of school and go down as a family to march in the St. Patrick's Day Parade in downtown St. Paul.  Even though the first McQuillans came to the United States in 1840, this day was – and still is – a day we all get together as a family to celebrate, something that is true for a lot of Irish-American families.
Irish-Americans usually wear something green on this day, since green is the color associated with Ireland.  My father, for example, had the world's ugliest green coat that he wore each year on this day.  Those celebrating today often have hats and shirts with shamrocks on them (see photo), which is one of the national symbols of Ireland.  (St. Patrick is said (is thought) to have used the three-leaf shamrock or clover to explain the Christian concept of the Trinity, that there is one God (one shamrock) but three Persons (three leaves).)  You will also see people with buttons on this day that say "Erin Go Bragh," which means "Ireland Forever!" in the native language of the Irish, Gaelic.
St. Patrick's Day is so popular in the U.S. that we say that everyone is Irish on this day, even if you really aren't.  Non-Irish add the traditional Irish "Mc" or "O" to the beginnings of their last names as a joke, so Lucy Tse might be "Lucy McTse" or "Lucy O'Tse."  Our president would be, of course, Barack O'Bama.
Happy St. Patrick's Day to you all!
~Jeff