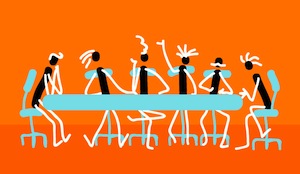 In Jesus Christ Superstar, a rock opera and movie from the 1970s, there's a song called What's the Buzz? In the song, the apostles (disciples, Jesus' followers) ask Jesus the same question again and again:
What's the buzz?
Tell me what's a-happening!
They wanted to know what everybody was talking about.
Have you ever walked into a room full of people – perhaps at a party – and listened to the sound of all the conversations in the room? You can't hear the words, but you can hear the buzz (activity, noise, excitement) of all the conversations.
Buzzwords are words that quickly become fashionable, or popular. They are words people use frequently, sometimes to impress other people. They show that you know what's going on (what's happening in the world around you).
Buzzwords don't usually last (continue to be used) for a long time. In fact, we often get tired of hearing them and wish they would go away. On the other hand, buzzwords can tell us a lot about what people were talking about at a particular time, like last year.
Some buzzwords become a regular part of the language. Usually they begin as colloquial words or expressions – informal, everyday words that are used in casual conversation but not in formal speech or writing.
This morning several buzzwords from 2009 were in the news. One of them – unfriend – was named the word of the year by the people who publish the Oxford dictionary. Unfriend is a verb that means to remove someone as a "friend" on Facebook or some other social networking site.
Here are some other 2009 buzzwords that were considered (thought carefully about) for word of the year:
sexting – sending sexual messages or pictures by mobile telephone
birther – someone who believes that Barak Obama wasn't born in the U.S. and, as a result, shouldn't be president
netbook – a small, very portable laptop computer for going onto the Internet
death panel – a committee that decides which patients receive medical treatment or, supposedly (used when we aren't sure), are left to die. Some people in the U.S. believe that death panels were included in the new health care program introduced by President Obama, but they weren't.
If you want to see more 2009 buzzwords, look at the lists from The New York Times and Time Magazine. Another interesting list is the annual (yearly) list of Words Banished from the Queen's English for Mis-use, Over-use and General Uselessness. These are buzzwords that some people are tired of hearing and want to banish (tell people to stop using).
~Warren Ediger – a student of many things, but especially language, learning and teaching, and technology; mentor-teacher; musician; husband and father; and creator of successfulenglish.com.
Image by Wael Attili; used by permission.