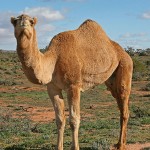 Yesterday, I offered a little ditty to help us all get through Monday. Today, I have a little joke for you.  If we get past Monday and Tuesday, then we should be able to get past hump day, right?  Hump day is what we informally call Wednesday.  A hump is a round area that is higher than the area around it.  If you encounter (meet) a hump in a road, you'll need a little extra gas to get over it.  (A hump is also what's on the back of some animals, like camels (see photo).)  If we can get past Wednesday, the hump, than the rest of the week will be a cinch (something easy to do).
Here's a little language joke, which also helps to explain why Cody was looking for Jeff and how he knew about ESL Podcast.
…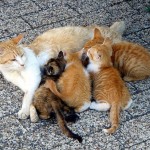 There was a mother mouse who was scurrying (running quickly) across the kitchen floor with her six little mice in tow (following).  All of a sudden (suddenly), she came eye-to-eye with a very large and very mean-looking cat.  Mother mouse was terrified (very afraid)!  But she pulled herself up to full height (stood up as tall as she could) and said at the top of her lungs (as loudly as possible), "Bow Wow!"
The cat nearly jumped out of his skin (was very shocked, very scared) and in the blink of an eye (immediately; very quickly) ran up a tree two blocks away.  Meanwhile, mother mouse gathered her little ones around her and explained, "Now, my dears, you see what I've always told you about the importance of learning a second language!"
* "Bow wow" or "woof woof" is the way we represent in English the sounds a dog makes when "speaking."  Of course, it's different in every language.
…
I wish you a good and easy Tuesday!
~ Lucy