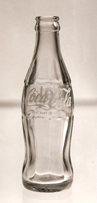 As some of you may already know, I spent some time in Mexico during the late 1980s (it's scary (frightening, surprising) for me to think that that was more than 20 years ago!). As a young man in my 20s, I participated in my share of (several) games of Dominoes, which was very popular in Mexico in those days (and perhaps still is?).  Part of the ritual (specific actions done in a certain order whenever this particular activity occurs) was to drink some Bacardi rum (a type of alcohol) and Coca-Cola, a drink known as a Cuba Libre (literally, "Free Cuba").  Needless to say, I had the chance to drink a lot of Coca-Cola during the games, although I always limited my intake (the amount of something you drink or "take in") of the rum.  I soon discovered that the Coca-Cola made in Mexico tastes different than the Coca-Cola made in the United States.  (Similarly, the Bacardi dark rum made in Mexico tastes different than the rum from Puerto Rico, which is what is sold in the United States.)
When I returned to the United States, I began to notice even more this difference between the taste of Coke in Mexico and in the U.S.  In fact, sometimes I would go down to the local Mexican market back in St. Paul, Minnesota (and yes, there are Mexican markets in St. Paul) and I would buy some of the bottles of Coke from Mexico.  Coke in Mexico was and still is sold in glass bottles, unlike the cans and plastic bottles that are used in the U.S.
Recently, I read an article in the New York Times Magazine about Mexican Coke.  I discovered that, in fact, although Coca-Cola is an international product with the same recipe or formula, the ingredients used in different countries may vary (may be different).  This is the case for Mexican Coke, which is made from sugar in order to make it sweet, and different from U.S. Coke, which is made from something called high-fructose corn syrup.  Fructose is another word for sugar, and high-fructose corn syrup is a special kind of sugar made, well, from corn.  These different ingredients definitely have different tastes, and many people who have tried both Mexican Coke and American Coke find the Mexican variety (type) tastes a lot better.  Certainly that was my experience.  Others think the difference in taste is due to (because of) the glass bottle, which may also be part of the reason.
Having reached a point in my life where I can no longer drink or eat what I want without getting fat, I rarely drink regular Coke anymore (although I do sometimes drink Diet Coke, which has artificial sweeteners (a sweetening substance made without real sugar or corn syrup)).  But reading this article reminded me of those days drinking rum and Coke and spending Friday evenings playing Dominoes with friends.
If you've traveled to the U.S. or to other countries, have you noticed a difference in the taste of the Coke?  Are there other "international" foods that taste different to you from one country to another?  Do McDonald's hamburgers taste better in Berlin than in Boston, for example?
~Jeff