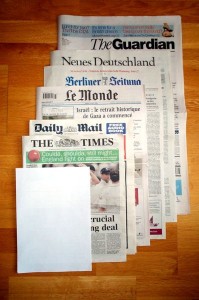 It wasn't long ago that the main sources of news were the daily newspaper and the daily television news broadcast (show).  Things have changed, and both newspapers and television news continue to lose readers and viewers as more and more people get their news on the Internet.
I know this is true for me.  I've never liked reading the large format (shape and size) newspaper of most U.S. newspapers, which for me, is too big and unwieldy (difficult to manage), and I don't like getting newsprint (ink from newspapers) on my hands.
I've always preferred news magazines.  I still read news magazines today, but more and more, I get my news from the Internet.  I get daily emails from major newspapers and news magazines with the headline (most important) stories of the day, and I usually visit the websites of several major news agencies each day.  I also visit several news-related blogs regularly.  I still read the newspaper in print (on paper) on Sundays, and I'll occasionally watch the evening news on TV, but I get most of my news from online sources these days.
How about you?  How do you primarily (mainly; mostly) get your news?
~ Lucy
[poll id="9″]