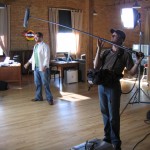 Over the weekend, one of the major news stories was about "balloon boy," a six-year-old boy who was believed to have gone up in a giant hot-air balloon shaped like a UFO (unidentified flying object; spaceship) that his father had built in the backyard.  The boy's parents called the police and told them that they thought six-year-old Falcon was in the balloon.  When the balloon finally landed (came down to the ground), the boy was not on board (inside).  It turns out that Falcon was in the attic (room below the roof) the entire time.
As more and more information becomes available, this entire episode (event) may have been a hoax (fraud; deception).  When the family was interviewed on one of the many TV news shows, the boy Falcon was asked why he hadn't come out of the attic sooner and he responded, "You guys said we did this for the show," which seemed to signal (give the indication) that this was staged (prepared; planned).
At the same time, more information became available about his parents.  The family had been on a reality TV show called "Wife Swap," in which the wife/mother of two very different families exchange places for a short time.  Falcon's parents had also pitched (proposed) a reality show to one of the cable networks (set of TV stations) for a show about their wacky (unusual and funny) family, which the network had passed on (rejected).  It now appears that this may have all been a publicity stunt (action to get public attention) and the police are considering filing charges (officially saying that someone has broken the law) against these parents.
Turning children into entertainers is nothing new.  There have been child actors, performers, singers, etc., since the beginning of time.  With the rise of (increasing popularity of) reality TV shows, however, there are more and more families putting their lives in front of the camera.  A recent example is the show "Jon and Kate Plus Eight," about a family with eight young children, whose parents in recent months have split up (separated; divorced) and have been publicly feuding (fighting; arguing).
Is this "family reality TV" trend taking place in other countries and what do you think of it?
~ Lucy