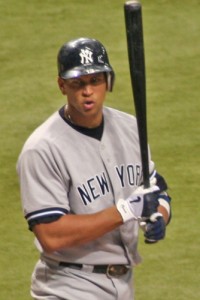 Americans love their sports, and professional sports is a huge (very big) business here, as it is in some other countries.  The most popular sports are baseball, American football, and basketball, with hockey, tennis, and golf being somewhat less popular.  (Soccer is also popular in some cities, especially those with large Latino/Hispanic populations such as Los Angeles.)  Professional athletes (people who play sports) can make a lot of money, sometimes for playing a relatively short amount of time.
According to the U.S. Census Bureau (the government agency or organization that figures out how many people there are in the US), it takes the average U.S. citizen about four years to earn $100,000.  Because pro (professional) athletes are paid so much, they can do it much more quickly.  For example, baseball star Alex Rodriguez (often called "A-Rod" for short) gets paid $33 million a year.  This year he has seen 1,593 pitches (a pitch is one throw of the ball that the batter (the hitter) tries to hit).  So each pitch so far is worth $15,856.  A-Rod only needs to see six pitches to make $100,000.  This could easily happen in less than two or three minutes in a single game.
Other pro athletes also make $100,000 in a very short time.  LeBron James, a pro basketball player, played 3,054 minutes last year and made $100,000 every 21.4 minutes.  Tiger Woods, the famous golfer, makes $100,000 for every 11 holes he plays.  (In golf, there are 18 holes that the golfer has to put the golf ball into by hitting it with a long stick, called a club.)  That would happen in less than a few hours.
But tennis pro Roger Federer "only" made $100,000 every 28 games, so he really has to work hard!
~Jeff