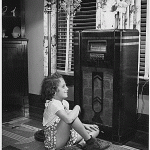 We have often said that we both have faces for radio. Here is further proof (evidence) of this.
For our German-speaking listeners, there was a radio story about ESL Podcast on Deutschlandfunk.  You can listen to the story here.
Look for the story "Englisch per Podcast: Sprachenlernen mit Humor."
~ Jeff & Lucy
P.S. See the comments below for an English translation from Rolf, one of our German-speaking listeners.  Thank you, Rolf!
Update: Audio file can now be found here.