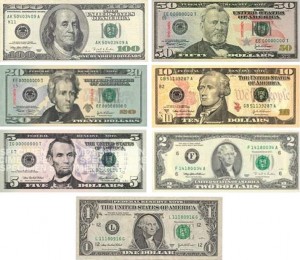 In my previous post, I talked about how common it is in the US to find traces (small amounts) of cocaine on US paper bills.  At the end of the post, I noted that the New York Times headline for a story about this issue was "Those Hamiltons and Jacksons Carry Some Cocaine."  What exactly does this mean?
Money in the US has the picture of famous Americans on it (usually a president, but not always).  You need to know this to understand this headline.  For example, the $10 bill has a picture of Alexander Hamilton, our first Secretary of the Treasury.  So (informally) $10 bills are sometimes called "Hamiltons."  Similarly, the $20 has a picture of President Andrew Jackson, a famous 19th century president and general – hence (for that reason), they are sometimes called "Jacksons."
Here are the rest of the people who appear on US banknotes:
$1 – George Washington, first US president
$2 – Thomas Jefferson, 3rd president*
$5 – Abraham Lincoln, 16th president
$10 – Alexander Hamilton, first Treasury Secretary
$20 – Andrew Jackson, 7th president and general
$50 – Ulyssus Grant, 18th president and general
$100 – Benjamin Franklin, founding father and diplomat
* = Not commonly used
Although you will hear and read these terms, they are I think less popular now than they were 50 years ago, even though the pictures haven't changed.  It is also not common to refer, for example, to the $1 bill as a "Washington," although I suppose you could.  The $100 bill can be called either a Franklin or a Benjamin (or even "Benjie").  It can also be called a C-note (C is the Roman numeral for 100).
The US no longer prints bills higher than $100.  They were last printed back in 1934, and are now rarely seen.
~Jeff