HOME > BLOG > Drug Money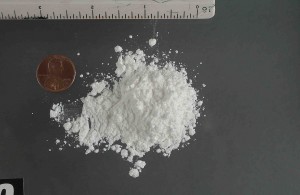 Cocaine is a very addictive (something that you can't stop doing or consuming once you start because it is so pleasurable) drug that became popular in the 1970s and 1980s and still is used by many today (I am told).  It is usually ingested (taken into the body) via (through) the nose in an action called snorting.  Sometimes (I've seen in the movies, at least) people take dollar bills (US paper money) and roll them up into a small circle, then place one end of the roll in their nose and the other to snort up (to draw into your nose by breathing in) the cocaine, much like a vacuum cleaner.   (A type of cocaine, called crack cocaine, or simply "crack," is smoked instead of snorted.  Cocaine can also be injected with a needle, like other drugs, directly into your blood.)
The US is a major importer (a country that buys a product from another country) of this illegal drug, which has been the cause of so many problems in Latin American and the US.  A recent study reported in the New York Times found that 90% of all US banknotes (paper money) contains small amounts of cocaine.   The amount is very small, which we would call trace amounts.   Two years ago, a study found that 67% of banknotes in the US had traces of cocaine, so the amount has increased.
The researchers collected 230 bills from 17 different cities.  Washington, D.C. had the highest percentage of bills with cocaine among the cities surveyed.  For some reason, $5, $10, and $50 bills had more cocaine on average than $1 and $100 bills.
The US is not unique when it comes to (concerning) cocaine on banknotes.  Eighty percent of Brazilian bills have traces of cocaine, and about 20% of Chinese bills.
The researchers noted that there was not enough cocaine to cause any health concerns, and certainly not enough to get high (intoxicated, affected by the drug).   Nor does it mean that 9 out of every 10 bills in the US is being used to snort cocaine!  Cocaine is snorted as a fine powder (very small particles or pieces, like flour), and spreads easily from bill to bill in bill counting machines (machines banks used to count the number of bills quickly).
The New York Times headline for the article online was "Those Hamiltons and Jacksons Carry Some Cocaine."   What is this all about?  More on that in my next blog post.
~Jeff