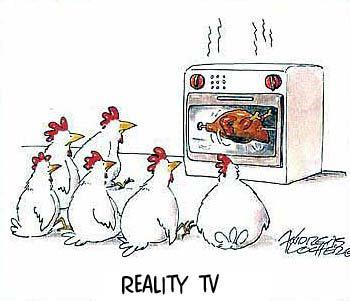 Reality shows (shows about real people or real events) have become very popular in the U.S. and worldwide. There are competition shows, shows that follow celebrities around in their daily life, and many others.
Even for those of us who watch reality shows, it seems that TV producers (makers of programs) are getting more and more desperate (wanting something very, very much and willing to do anything for it) and outrageous (shockingly bad) with show ideas.  Then again, maybe I'm just old-fashioned and these shows aren't over the top (gone too far).
Here are a few reality shows that are considered to be among the very worst ever on American television. Which do you think is the worst?  Are there others–past or present–that you think are worse than these?
~ Lucy
……..
1. Who's Your Daddy?
A young woman who gave up a child for adoption (for someone else to legally raise as their own child) tries to pick the long-lost (has not seen for a long time) biological (by blood) father of that child. She has to pick from a group that includes several impostors (a person who pretends to be something he/she is not). If she guesses correctly, she wins $100,000.
……..
2. The Will
A very wealthy rancher (person who owns a large farm) and land developer (builder) puts his large ranch estate (house, land, and valuables) up for grabs (as a prize). His friends and members of his family competed.  The winner was put in the man's will (a document that tells others what you want to do with your belongings after you die) and will get the estate when he dies.
……..
3. Temptation Island
Four unmarried couples travel to an island. They are given many temptations (desire to do something wrong) to lure them (try to get someone to do something) from their relationships. Each person spends time alone with members of the other couples in tempting situations, such as being in a hot tub (a small pool with hot water and bubbles) or in a bedroom together.
……..
4. Armed and Famous
Armed and Famous puts famous celebrities on the streets as cops (police officers) in a small town in Indiana, in the Midwestern part of the U.S. The celebrities are trained to be police officers. They then go along with their training officers to patrol (watch over) the streets.  You see how the celebrities handle their training and how they operate as police officers.
……..
[Poll=6]