Fiction refers to stories not based on true events.  Historical fiction is made-up (not real) stories that are set (located) in the past and may be based on real events, real situations, or real people from the past.
In this week's English Cafe 175, Jeff talks about Appalachia, a region (area) of the eastern United States.  There is a lot of historical fiction about Appalachia and other parts of the American frontier, the areas in the United States before very many people went there or lived there. Here are four books about the frontier that I would recommend.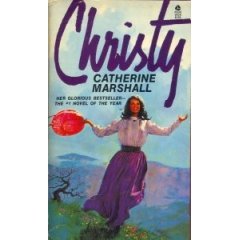 The first book is called Christy by Catherine Marshall. The book is actually inspired by (influenced by) the author's own mother who as a young woman, went to the Appalachian Mountains to teach in a missionary (religious) school in 1912. The people who lived in these mountains were very poor but strong, and the book does a very good job of showing the everyday lives of these Appalachian people and the struggles they went through. Christy, the teacher, herself is a strong, smart woman who is able to achieve a lot while teaching in a one-room schoolhouse. This book was later made into an American television series, but I haven't seen that yet.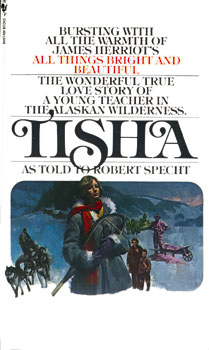 Another novel (fiction book) about a teacher on the frontier is a book called Tisha written by Robert Specht and Anne Purdy. Like Christy, this novel is based on true events. Anne Purdy, one of the authors, went to teach in a very small town in Alaska at the age of 19 in 1927. This is a story about her experience, but also one about the gold miners and Native Americans who lived there and the fate (one's life events or outcome) of mixed-race children (children of white and Native American parents) at that time. This is a very interesting story.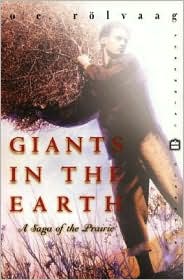 The book Giants in the Earth was written by the Norwegian American author Ole Edvart Rolvaag. The author, a writer and professor, was born in Norway and immigrated to the U.S. at the age of 20. He wrote this book based in part on his own experience, when he and his family settled (moved to live) in South Dakota, which was at that time–around 1900–mainly unsettled prairie (flat grassland). The U.S. government, wanting more people to move to these areas and to develop them, gave land to anyone who asked for it, and many people from Europe (including Scandinavia) moved there to farm. This book is about a family who moves there with three other families to start a new town and a new life. As you can imagine, life was not easy for these early pioneers (people who are the first to do something).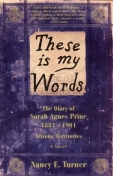 Finally, the book These is My Words by Nancy E. Turner is a book about Sarah Prine who, with her family, moves to the outskirts (the outer parts of a town or city) of Tucson around 1880 to live and to farm.  If the title sounds strange to you, it's because it should read "These are My Words."  When the story begins, Sarah is not highly literate (cannot read and write well), and the title reflects (shows) this, since the book is written as a diary (daily or regular writing you do about yourself).  However, her literacy improves quickly and the book is not difficult to read, even in the early chapters. Like the pioneers in the other three books, life for Sarah and her family is difficult and precarious (not secure; dangerous).  This novel is engrossing (difficult to stop reading), with well-drawn characters (characters that seem real), and for those with a tender (soft) heart, there is also a nice love story.
I recommend all four books. Not only did I think they were well-written and entertaining stories, I learned a lot about the American frontier. Check them out if you're interested in the American frontier or just like a good story.
~ Lucy