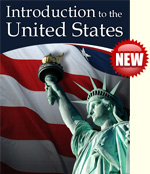 We are very happy to announce a new course available in the ESL Podcast Store: "Introduction to the United States." This course is for anyone interested in learning more about the U.S., while improving their English.
We've taken the 100 questions asked on the U.S. citizenship test, the test taken by people who want to become an American citizen. However, we go far beyond the simple answers. We give explanations about how the U.S. government works, major events in U.S. history, and the people who helped create this country. Each explanation brings the facts about the history and stories behind the simple answers alive, making it easy to learn about the U.S. as you improve your English.
Learn more about "Introduction to the United States" here and you can listen to a sample by clicking on "Listen to a sample" after clicking on any of the course options.
We hope you enjoy this new course!
~ Jeff and Lucy