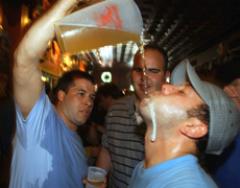 Many people have pages on websites such as Facebook and MySpace.  Even I have a page on Facebook (just search for "Jeff McQuillan" and then you can add me as your "friend")!  These sites allow you to share information and to learn about what your real and virtual (over the Internet) friends are doing.  The sites also allow you to post pictures of yourself and your friends.  That's where the problems begin.
A recent survey by CareerBuilder.com  found that one out of every five hiring managers (people who decide who will get a job at certain company) look at the social networking (sites such as Facebook and MySpace) websites of the applicants or candidates (people applying for or requesting a job at the company).  They look to see what kind of person they are hiring, including what his or her personal habits and actions are.  Unfortunately, many college students and young people who use social networking sites post (place on the Internet) pictures of themselves drinking (often illegally) and doing other things that they probably do not want companies to know about.
According to the survey, 41% of the candidates posted pictures or other information about drinking or drug taking, 40% posted information on sexually inappropriate or questionable behavior, and 27% had information on their page that showed that they had lied about their qualifications.
But the news is not all bad.  Almost half of the candidates posted information that showed they were telling the truth about their qualifications and gave the hiring managers positive information about them.  So be careful what you post to the Internet, especially if you are going to be looking for a job.  (Note: I have not posted any pictures of me drinking or doing other things that could get me in trouble on my Facebook page…maybe later!)
~Jeff