There are many types of blogs. The ESL Podcast Blog is one for learning. Other kinds of blogs are confessional, where people tell others about something they've done, often things that was a secret and/or wrong in some way. Many blogs give new information or breaking news (most recent news, happening right now) about politics, technology, and other topics. Still other blogs are a creative outlet, where people can post their imaginative and original works or ideas for others to see.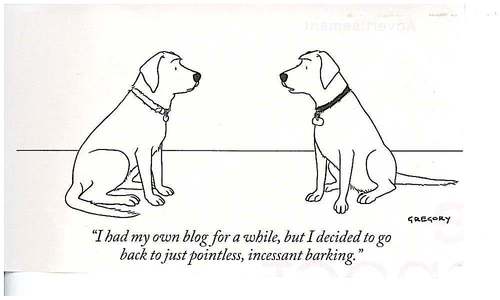 For some therapists (people or doctors who help people with mental or psychological issues and problems), blogs have another function. Therapists are telling their patients to blog as part of their treatment (medical care to make a person better).
Psychologists (scientists who study the mind) say that blogs are different from diaries because there is a built-in (inherent; as part of it) audience. As children, we learn that we can get help if we tell others about our problems. And as adults, we associate (connect) communication with getting consolation (comfort received after something bad happens). For this reason, psychologists say, blogging gives people their need for sympathy (others feeling sad for you), especially when there are major problems. Therapists say that blogging gets you closer to a sympathetic audience and that's therapeutic (have a good effect on your body or mind). According to one psychologist, blogging, which can be anonymous (not identified by name so no one knows who you are), which gives it another therapeutic advantage: People can tell of intimate (private and personal) things without making themselves vulnerable (giving other people an opportunity to attack or harm them).
Would you consider starting a blog? If so, what kind of blog would it be and what would you write about?
~ Lucy
Cartoon: "I had my own blog for a while, but I decided to go back to pointless, incessant barking."
pointless = without purpose
incessant = with no end; without stopping
to bark = to make the loud sound a dog makes with its mouth when it "speaks"