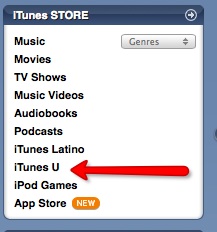 As some of you probably know already, iTunes has a special section for university lectures and classes.  Different universities, including some of the best in the United States, provide free lectures and demonstrations on a variety of topics from some of their best professors.  You can find the free courses by clicking on iTunes U in the menu of the iTunes Store.
These videos audio lectures are especially good for those of you studying for the TOEFL or IELTS exams, since you will get a lot of native speaker speech on topics similar to those found on the tests.  Of course, you want to start with a subject you know something about, and (with luck) a professor who speaks clearly.
For some useful advice on how to use iTunes U, take a look at Warren Ediger's Successful English website where he has a special section on the TOEFL.
~Jeff