A font is the size and style of printed letters and words, like these: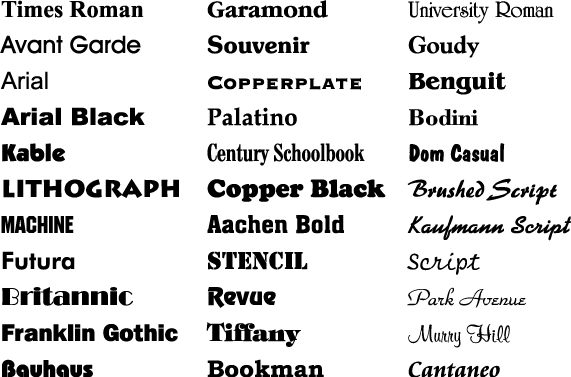 The latest trend (fashion; something new that many people are doing) for important people or celebrities is to commission (hire someone to make or create something) someone to create your own custom (specially made; not standard) font.
* Did you know that Barack Obama, who is running for (wanting to be elected to the job of) U.S. president, has his own font?
* Did you know that singers/celebrities, like Beyonce and Bjork, do too?
An article I read reported (gave information) that last year, a movie called Helvetica (the name of a font) became very popular. Helvetica is a documentary (movie based on true events) about the history of this font–yes, an entire movie about one font! In the cities where it played (was shown), there were sold out (all the tickets sold; every seat was filled) audiences.
Typographers, people who arrange or design letters/words for printing, say that fonts can send important and subtle (not bold; not very easy to see or understand) ways, communicating or changing a mood (emotion; how you feel) or a tone (quality; character; feeling). Business and advertisers know this. They use thick fonts to convey (communicate) boldness (having courage and confidence) for products like cigarettes, and they use thiner and lighter fonts for fashion (clothes and other things people wear).
The two fonts I see the most in daily correspondence such as letters and emails in the U.S., both personal and professional (in business), are Arial and Times Roman (see above).
Do you select a special font for your correspondence? What do you think it says about you?
I usually use Arial. It's simple, so I guess I'm simple*, too.
~ Lucy
* simple = 1) plain, not fancy, 2) easy to understand, or 3) dumb, stupid, not intelligent, when describing a person