The airline industry (business) is in trouble all over the world, and the U.S. is no exception (the same as everyone else).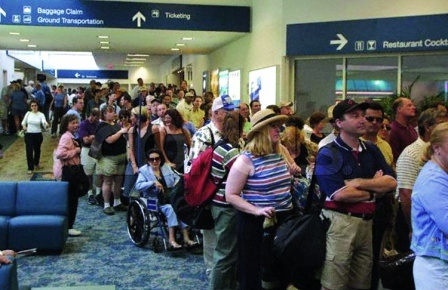 In the U.S. in recent months, four smaller airlines have filed for bankruptcy, which is when a person or company say legally that they cannot pay their bills. Two big airlines–Delta and Northwest–are going ahead with a merger (when two companies combine to become one), even though there are major objections (opposition; disapproval) from the pilots (people who fly the airplanes). The two companies believe that it's the best way to save money and to keep from going under (failing as a business).
To counter (to act against) the high price of fuel (energy that runs machines, like airplanes and cars), several major airlines are cutting back (reducing) on the number of flights they offer by about 15%, which means there are fewer seats for passengers and tickets are more expensive.
Airlines are also charging more for their services. A few of the U.S.'s largest airlines, including American Airlines and United Airlines, have started to charge for the first piece of luggage that passengers check in (give to the airline to put on the airplane). Most airlines have always charged for the second piece of luggage or for heavy luggage, but this is the first time that an airline is charging for the first piece of check-in luggage. Many people say that with this change, more people will want to bring carry-on luggage (bags a passenger takes onto the airplane him/herself), which will mean longer lines through security.
Fewer flight options (choices), higher prices, longer lines, and more hassle (bother; problems) are just a few of the things air travelers have to look forward to.
~ Lucy