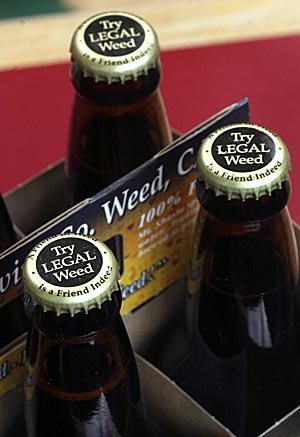 "Weed" is the name of a small town in California with about 3,000 residents (people who live there). "Weed" is also a slang or informal term for marijuana, an illegal plant whose leaves are dried and smoked. "Weed" is the name of a beer made by a small brewery (factory where beer is made) in the city of Weed that is in trouble with the U.S. Government.
The reason the company is in trouble is that the company uses the slogan (short phrase to sell a product) on its beer bottle caps that reads: "Try Legal Weed." The government says that the slogan is talking about using marijuana, which is illegal, and has told the company to stop using the slogan. If it doesn't, the company could be fined (punished by having to pay money) or be sanctioned (legally not allowed to do certain things).
The man who owns the brewery says that he used the slogan only to grab (to get) attention. Besides, he says, the town was named after a man named Abner Weed who founded (started) the town, and not after the marijuana plant.
According to the government agency, the label is a problem because:
"We consider it to be a drug reference (saying one thing when you mean something else), and find it to be false (not true) and misleading (giving the wrong idea) to the consumer in terms of what may or may not be the properties (characteristics; parts) contained within that product…"
What do the people of the town think?
"It's just plain goofy (silly) to me the federal government is making so much of a fuss (unnecessary excitement and interest) over this," said Chuck Sutton, Weed's mayor (elected leader of the town). "I can sort of (partly; kind of) understand their point, but it all seems a little overboard (too much)."
Read the full story from the Los Angeles Times.
~ Lucy