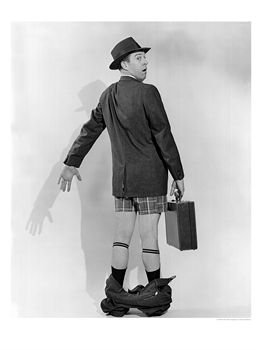 A scandal is when someone does something wrong, usually a well-known person such as a politician or a movie star. There can be many different types of scandals, including scandals involving sex. In today's U.S. papers, the American press is reporting on a story about the Governor of the State of New York, Eliot Spitzer. Governor Spitzer is accused (is said to be guilty of) visiting a prostitute (a man or woman who provides sex in exchange for money) while on a trip to Washington DC. The governor has admitted to doing something wrong, and will probably resign (give up his job) very soon.
Sex scandals are nothing new to American politics, or probably the politics of any country. One newspaper ran (published) an editorial cartoon (a visual joke usually involving politics) showing the governor in his underwear with his pants down on the ground. We have an expression, "to be caught with your pants down," which means to be discovered doing something wrong, often while committing the act. Although the expression relates obviously to a sexual situation, it can also be applied to any situation where you are discovered by other people doing something wrong.
So whatever you do today, try not to get caught with your pants down.
~Jeff