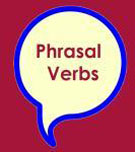 One question we get frequently is: Can you please talk about phrasal verbs? A phrasal verb is sometimes called a two-word verbs such as "to put down" or "to get out" or "to kick (someone) out." English has lots of these phrasal or two-word verbs, and they can be very confusing to people trying to acquire English.
Let me respond to this question a couple of different ways. First, we DO talk about phrasal verbs, almost every episode. For example, in ESL Podcast 322 from last week, we had all of these phrasal verbs: to pick up, to take advantage, and to stick to (something). In English Café 112 last week, we talked about the phrasal verbs to cover up and to carry out. Even more phrasal verbs are typically found in our Learning Guide under the sections What Else Does it Mean? and Cultural Note. We talk about two to three phrasal verbs on nearly every podcast episode and Café.
Second, many people want a "systematic" or structured review of all of the most important phrasal verbs in English. I understand the desire to be thorough and organized in your learning, but unfortunately that's not the best way to pick up new words, whether they are phrasal verbs or otherwise. Yes, you could try to memorize verbs the way many English teachers and courses try to teach you, one word at a time. But that one-by-one approach has been found by several research studies to be the least efficient use of your time, the worst use of your time. Why is this so?
To understand why trying to memorize vocabulary is not a good idea, you have to understand a little about language acquisition. I don't have time to cover everything on a blog post, but I tried to provide more details on how you should improve your English a few years ago in a "special" podcast episode called, Secrets to Improving Your English. Those of you who have been listening since the beginning may already have heard this, but if you have not, just RIGHT-click on this link and "Save As…" to your hard drive. It's about 25 minutes long.
One excellent way to improve your vocabulary (in addition to listening to ESL Podcast, of course!) is through reading – lots and lots of reading. In fact, reading has been shown in studies to be 10 times more effective than traditional vocabulary teaching. Reading is 10 times faster than any other typical approach to increasing your vocabulary, including flash cards, computer programs, and websites with lots of "vocabulary" exercises. The problem is that very few English teachers or students are aware of the scientific research in these areas.
So if you want to know all of the phrasal verbs in English, now you know what to do!
~Jeff