Last week, the big news was that the Writer's Guild of American, a union of writers for television and movies, went on strike. To go on strike is to stop working to protest something that you think is wrong, or to get a company or organization to give you something you believe you deserve. We talked about going on strike in ESL Podcast 252 – A Workers Strike.
What's the big deal (great importance) about Hollywood writers going on strike?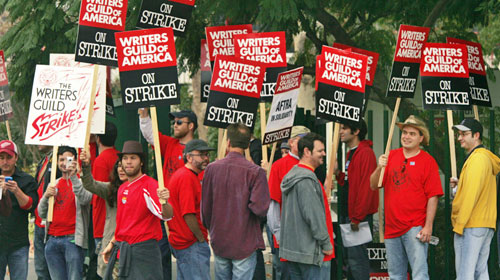 The writer's union going on strike actually affects a lot more than just what you see–or don't see–on TV and in the movies. It's has a big impact (influence) on the California economy. When writers strike, shows and movies shut down (end work), and not only are actors and directors out of work, many people associated with the TV and movie business are out of work, too. These include the people who work behind the scenes or in the background, such as janitors (people who clean), parking lot attendants (people who park cars and take care of parking lots), dry cleaners (people whose job is to clean clothes), carpenters (people who build things), and many, many other types of businesses and workers. Many of these people will lose their jobs while the writers are on strke.
The last time the writer's union decided to strike was in 1988. The walk-out lasted 22 weeks. For the sake of (for the good of) all of the people who make a living (make money to live) from the entertainment industry, let's hope that this will be a very short strike.
~ Lucy