I got an interesting question recently from a listener, Mauricio, about how the different English proficiency tests compare to one another. Mauricio took the Test of English for International Communication (TOEIC), and wants to know what his approximate score would be on the International English Language Testing System (IELTS), another popular test of English skills. All these tests can be very confusing, since there is also a test for university students, the Test of English as a Foreign Language (TOEFL), which is the most popular of them all.
Unfortunately, these tests are different and cannot always be directly compared. In fact, the publisher of the TOEFL and the TOEIC says that you just can't compare those two tests because they are so different. However, one Canadian language school published this comparison on their website: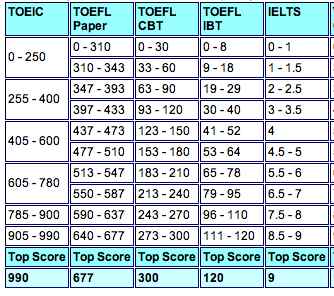 Source: Vancouver English Centre
These comparisons are not official or taken from the companies that make these tests. They are what at least one school uses, so they may be helpful to you.
~Jeff
P.S Did you know that ESLPod.com has several lessons to prepare you for taking tests such as the TOEFL? You can find them on ESLPod.com's Guide to the TOEFL Test page. This series also available to download for free on iTunes. We are not currently updating this podcast, but the older lessons will still be useful to you if you are studying for the exam.