HOME > BLOG > ESL Podcast now a Featured Provider on U.S. iTunes!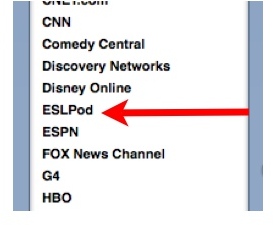 ESL Podcast is among a select group of Featured Providers on the Podcast page of the U.S. verison of iTunes! Only 46 companies are listed as being the most popular providers of podcasts, including the BBC, CNN, and now, ESLPod. The Featured Providers are selected by iTunes to feature (to publicize, to let others know about, to highlight) the best podcasts available.
Each country's iTunes has a different list of featured providers, so you may not see it on your country's Podcast page.
~Jeff