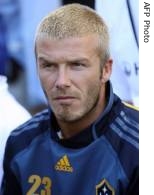 Americans are not the world's biggest soccer fans, as everyone knows. Soccer is very popular as a sport in school, but the best athletes in the US usually become (American) football, basketball, or baseball players (with a few hockey players as well). So when England's superstar soccer player David Beckham signed a contract for $250 million dollars with the Los Angeles Galaxy professional soccer team, most Americans asked, "David who?"
Beckham has been in the news here in Los Angeles, not just because of the large contract he received, but because his wife, Victoria, was part of the famous "girl band" the Spice Girls, popular in the 1990s. Soon after Beckham arrived, however, he injured (hurt) himself, and only yesterday returned to the team to play.
Some people (like me) had heard of David Beckham before he came to Los Angeles, mostly from a well-liked movie, Bend it Like Beckham, about a girl from an Indian immigrant family in London who loved to play girl's soccer. If you haven't seen this movie, I think you will really like it. This was also the first big movie for the British actress Keira Knightly, although she wasn't the star of the movie.
~ Jeff