Friday - September 28, 2007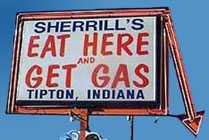 If you are driving through the city of Tipton in the state of Indiana, you may want to avoid (to keep away from) this restaurant and gas station. The other people in your car may thank you.
"To get gas" means to put gasoline in your car or vehicle. It also means to have too much air in your intestines, the tubes that move food around in your body. I think you know what happens when you have too much gas. If you have too much air in your stomach, you may burp. If you don't know about burping, listen to English Cafe 58. Jeff demonstrates and shows you very clearly what can happen.
~ Lucy