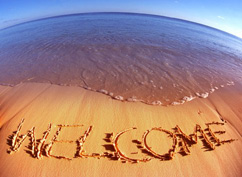 Welcome to the ESL Podcast blog! This blog is to keep you up-to-date with all of the latest news from ESL Podcast. This blog will also allow us to talk about things we don't have time to go over (discuss) in the regular podcasts.
If you have a question or comment, you can submit them to us by posting (putting on the website) a comment. To avoid spam (unwanted messages sent to many people), we will need to approve the comments before they are posted, so please be patient. That may take a few days.
There are a lot of things that we want to talk about on the blog, and we hope you'll come back to the website frequently (often) to read the newest posts (messages). The blog will also have information about things that are happening here at the Center, with the podcast, and with us–Jeff and Lucy.
Thanks for visiting our blog!