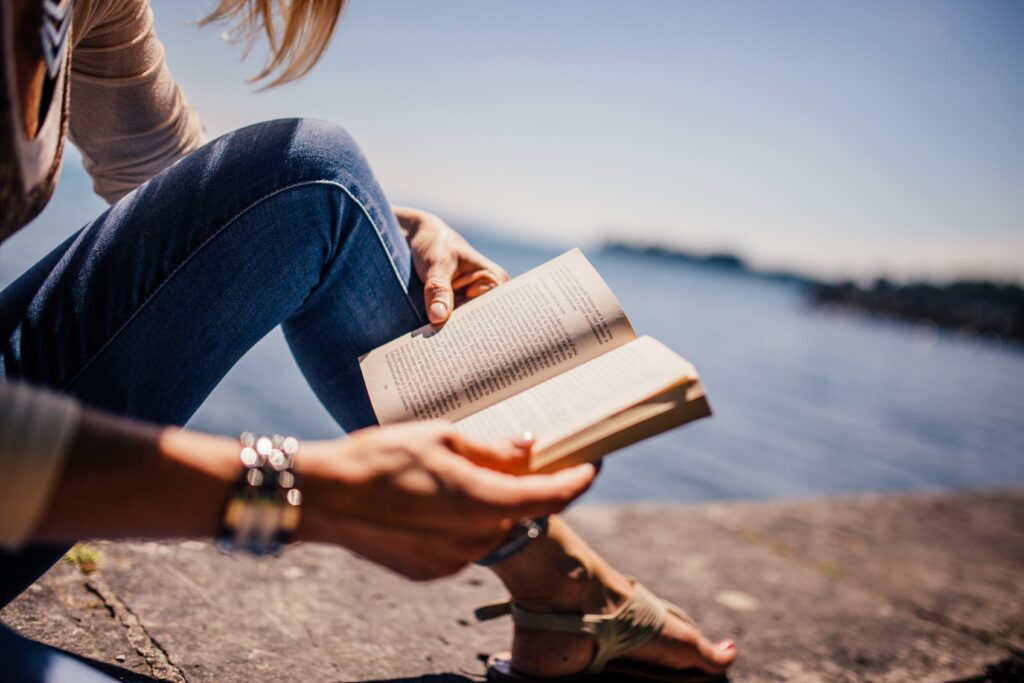 August is a popular month for summer vacations, when many people enjoy reading relaxing books.
Reading in English, together with (combined with) listening in English, will also help you improve your English a lot.
Try to read things you can understand fairly easily, without taking out the dictionary at all or very often.
The important thing is to understand the general meaning of what you are reading, even if you don't know every single word.
However, for people who are not yet reading at an adult native-speaker level, there is one major obstacle (barrier; difficulty): How do you find books that you can understand AND that are interesting to an adult?
The logical (reasonable; clear) solution, at least as far as finding books at the right level is concerned, is to select books intended for (written for) children or teenagers.
The downside (problem) is that these books may have themes or subjects that are too juvenile (childish) for an adult.
One solution may be to select Newbery Medal award-winning books to read.
The Newbery Medal is an award given each year to the best American literature (quality stories/books) for children.
Yes, these are still books written for children and most of the protagonists (main characters) are children, but many of these Newbery Medal winners have sophisticated (high-level; complex) themes that still appeal to (be attractive to) adults.
You can find a list of these books here.
Obviously, the lower the grade-level, the easier the language, although these lists do not take into account (consider) the reader's background knowledge or knowledge they already have about the book's topic, which helps a lot in understanding what we read.
ESLPod.com co-founder Dr. Lucy Tse has read many of these in languages she's tried to learn. Some of her personal recommendations are:
1999: Holes by Louis Sachar (Publisher: Frances Foster) – Mystery/Adventure
1994: The Giver by Lois Lowry (Publisher: Houghton) – Science Fiction
1992: Shiloh by Phyllis Reynolds Naylor (Publisher: Atheneum) – General Fiction
1984: Dear Mr. Henshaw by Beverly Cleary (Publisher: Morrow) – General Fiction
1961: Island of the Blue Dolphins by Scott O'Dell (Publisher: Houghton) – General Fiction
If you have read other books you liked that may be appropriate for people not yet reading at the adult level, please tell us about them by posting a comment!
One more thing: Read Warren Ediger's blog post about finding reading materials at the intermediate level here. He provides a way for you to look at the book's pages before you decide whether you want to read it, making sure it is right for you.
~Jeff
P.S. Like this short English lesson? Get a FREE sample lesson (no money needed) – SIGN UP BELOW!
Just fill out the form below and we'll send a FREE lesson to try!
We hate spam, too! We will never sell, rent, or give your information to anyone – ever!
What Will I Learn in My Free Lesson?
Here is just a small part of what you're going to learn in this free lesson:
What "take a rain check" means and how to use it in a conversation . . .
The difference between a "recluse" and a "busybody" . . .
Why "to fend OFF" means something from "to fend FOR" . . .
What it means to "take a rain check," "keep to yourself," and "to appoint (someone)" . . .
What a social secretary is . . .
The best way to use "to sort out" and "to turn down" . . .
How to use phrasal verbs like "to settle in" and "to settle down" (they're not the same!) . . .