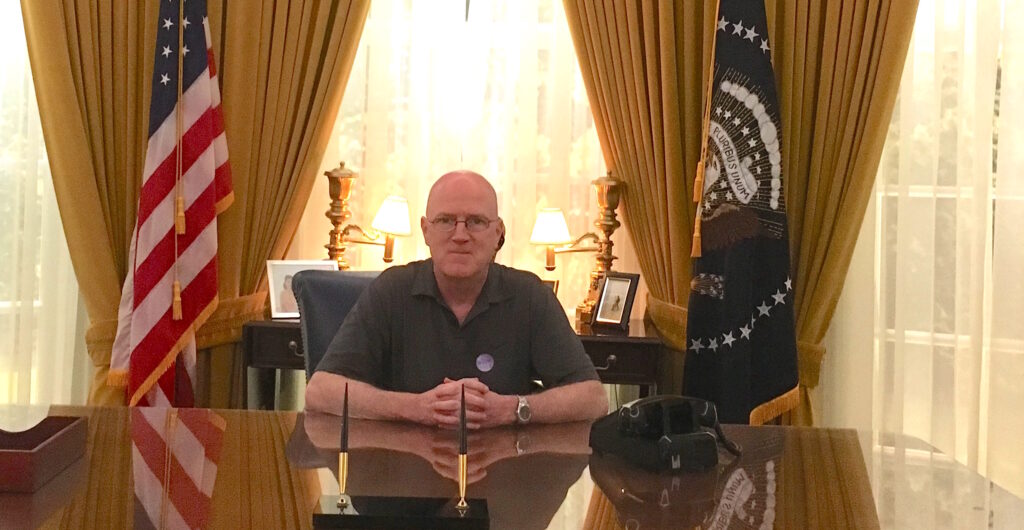 Presidential libraries are places where many of the documents and possessions of American presidents are kept after they leave office (stop being president).
These libraries usually have museums that tell you the story of that president and what he did.
I visited the Richard M. Nixon Presidential Library a few weeks ago, located right here in Southern California. It was much more interesting than I thought it would be.
In fact, I had planned on spending one hour there and spent three instead!
Before telling you more about the library, let me share some of my photos of it.
In the first photo (above), you see me in what is an exact replica (copy) of the president's Oval Office in the White House. The Oval Office has a large desk and a place for small meetings. Good coffee, too.
The second photo shows me standing next to Marine One. Marine One is the official helicopter that the president uses. This was one of the ones used by Nixon in the 1970s.
I asked if I could fly it and they said no. Weird.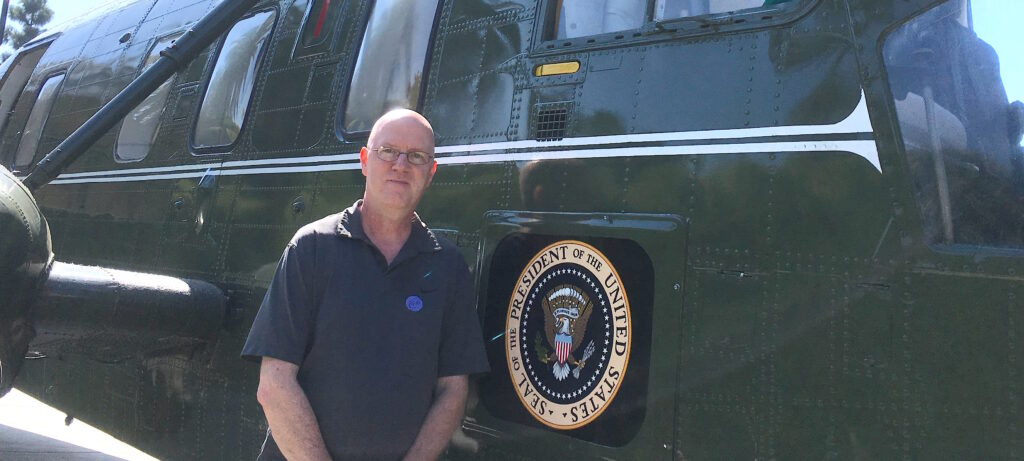 The third picture shows me inside a special booth (room) that was used by the astronauts that returned from the first trip to the Moon in 1969.
Notice that President Nixon is there with me. Considering he's been dead for more than 20 years, that was very nice of him.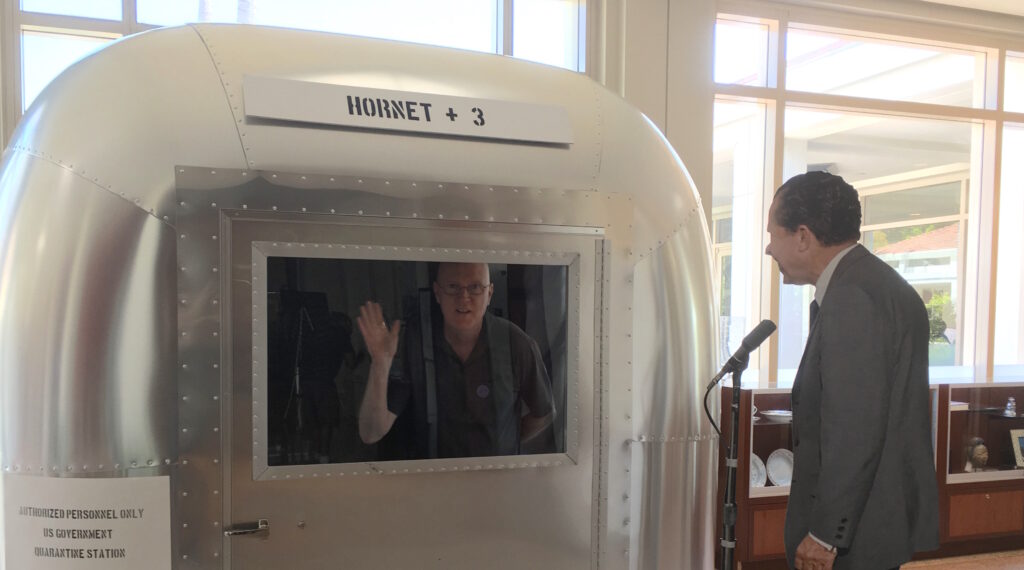 The final picture shows me in front of a large photography of Nixon in his typical or characteristic pose (position): two arms held out with a "V" for "victory" sign.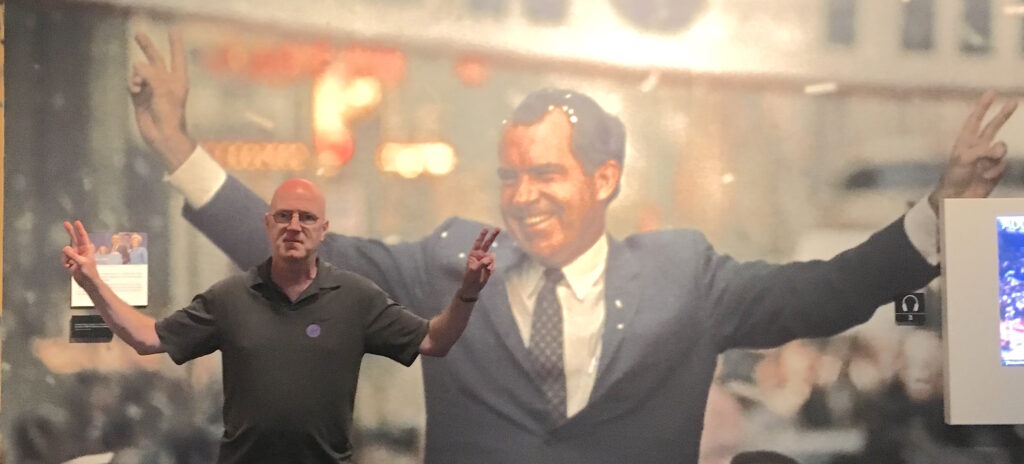 The tradition of starting a library/museum for each president came relatively late in our history. The first presidential library was for Herbert Hoover, who was the 31st president (1929 to 1933).
Money to build these museums usually comes from universities or private organizations. The United States government helps run (operate; manage) these libraries.
Here in Southern California, we have two presidential libraries: one for Richard Nixon (1969 – 1974) and one for Ronald Reagan (1981 to 1989).
The library/museum is located on the site where Nixon was born, in a small farm house. The main museum contains the history of his presidency.
Now, you may know that Nixon resigned from the presidency in disgrace (with a bad reputation; after having done something wrong). (Get more information on his time in office in Cultural English 280).
He illegally tried to cover up (prevent others from knowing about) crimes he and his staff had committed. Congress started to remove him from office using a process called "impeachment," but he resigned before that could happen.
The museum does not sugar coat (make it seem "sweeter" or nicer than it is) this history. It tells a balanced, well-documented story that gives you all the facts, both good and bad.
The museum is not located in the city of Los Angeles, but in a suburb about 30-45 minutes south of downtown. If you have any interest in the 1960s and 1970s in the United States, I can definitely recommend you visit it if you come to L.A.
You can also visit 13 other presidential libraries around the United States. They are usually located in the "home" state of the president, either where he was born or where he lived.
~Jeff
P.S. Like this short English lesson? Then you'll love our Unlimited English membership: https://tv.eslpod.com
Get a FREE sample lesson (no money needed) – SIGN UP BELOW!
Just fill out the form below and we'll send a FREE lesson to try!
We hate spam, too! We will never sell, rent, or give your information to anyone – ever!
What Will I Learn in My Free Lesson?
Here is just a small part of what you're going to learn in this free lesson:
What "take a rain check" means and how to use it in a conversation . . .
The difference between a "recluse" and a "busybody" . . .
Why "to fend OFF" means something from "to fend FOR" . . .
What it means to "take a rain check," "keep to yourself," and "to appoint (someone)" . . .
What a social secretary is . . .
The best way to use "to sort out" and "to turn down" . . .
How to use phrasal verbs like "to settle in" and "to settle down" (they're not the same!) . . .
And much, much more!