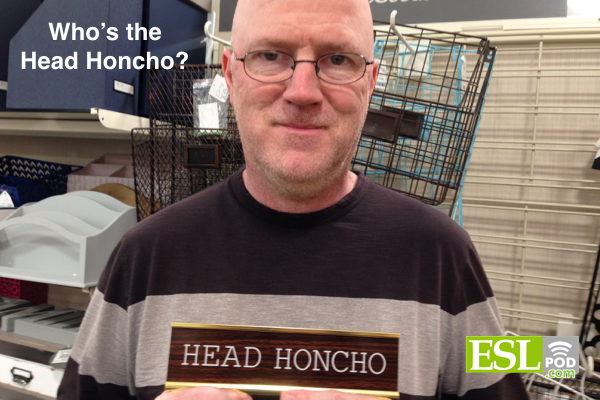 The term head honcho is sometimes used to describe the leader, president, or most powerful person in an organization or company.
The word head here means "top" or "best." In some schools in England, for example, there is a "head boy" or "head girl" who is chosen to be the leader of the students, and is often one of the best students in the school.
The headquarters of a company is the main or "leading" location for that business. On a car, the headlights are in the front position.
The word honcho is an unusual one, and you will typically only find it in the expression, "head honcho," although it can be used by itself. The word is thought by some to come from the Japanese word hancho, which was a leader of a group.
One story is that American soldiers returning from World Word II brought the word back with them and popularized it in American English.
Sadly, I am not really the head honcho of ESLPod.com (or anything else), but I did find this nameplate (see photo) at a store last weekend I may put on my desk.
~Jeff
Want to comment on this blog post? You can now do that on our Facebook page – click here to comment on this post!
WAIT! Before You Go . . .
Get a FREE English Lesson from ESLPod.com!
Do you have difficulties remembering the "right" word when speaking in English?
Do you have to stop and think about everything you want to say in English?
Do you get lost when someone speaks English quickly to you?
Then you need to try one of our Unlimited English lessons from ESLPod.com!
Used by more than 1.27 million people in 189 countries, our Unlimited English lessons are designed to help you understand English so you can speak it.
Just fill out the form below and we'll send a FREE lesson to try!
We will never spam you! We will NOT sell, rent, or give your information to anyone – ever.